Durable Microfiber Hand Duster with Extendable 135cm Stainless Steel Rod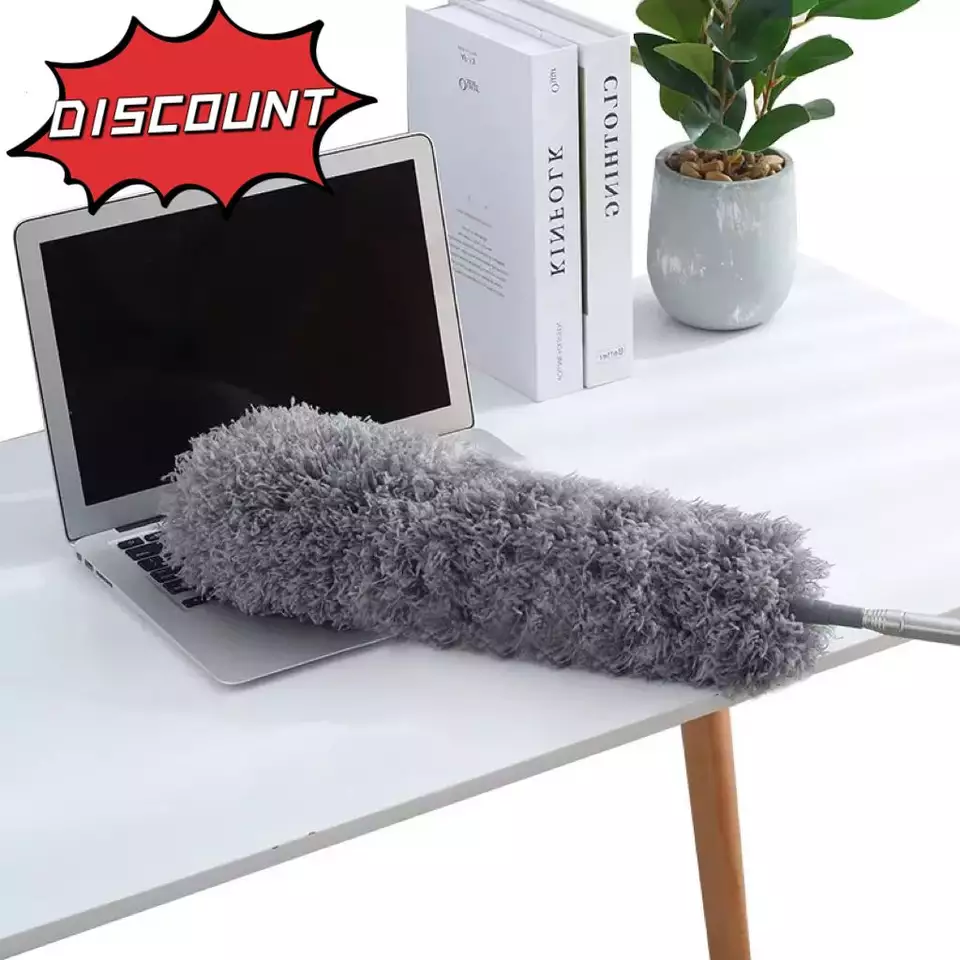 Description:
With its cutting-edge technology, it charges up electrostatically as you use it and easily attracts dust, pollen, and hairs. Use it dry or wet to keep your home spotlessly clean. This duster is made with microfiber materials and the most up-to-date manufacturing techniques to ensure that it is rustproof, strong and durable, lightweight. It is multifunctional and can be used to clean household appliances, ceiling, window blinds, ceiling fans, different types of furniture, and cars.
It is bendable and has an extra long extendable pole from 62 inches to 135 inches, made of stainless steel, which makes it simple to reach high ceiling corners or ceiling fans without having to haul out the ladder. It also helps clean hard to reach areas such as under beds and sofas. The pole's base has a hanging hole to make it easier to store.
Special Features:
● [Bendable Head] Bendable head allows you to clean harder to reach areas whether it's high ceiling or under the bed.
● [Electrostatic Absorption] The microfiber duster head strongly absorbs dust— minimizing the fall off.
● [Extendable Long Pole] The pole can be extended from 62 to 135 inches (fully extended) so there's no need for chairs or ladders needed while dusting. It stretches and retracts to allow access to those parts that are hidden and far away.
● [Lightweight but sturdy] The stainless steel telescopic rod is light but durable. It won't easily break when cleaning difficult areas and corners and is easy to carry around anytime and anywhere.
● [Washable & Detachable] One you're done using the duster, it is easy to wash, clean, and then reuse again and again.
Specifications:
● Model: SS 62135
● Color: green, rose-red, blue, gray
● Material: Stainless steel integrated extension rod, dense fiber
● Packing: opp bag
● Product weight: 0.151kg
● Case pack: 100 Pcs/ctn
● Carton size/weight: 65*28*25CM 16KG
FAQs:
Q1. How do I wash the duster head?
The duster is easy to clean and reusable. Just slide the head off the telescopic rod then hand wash with warm or low heat water and let it air dry. We've also designed the base of the extending rod with a hanging hole to make it storage-friendly.
Q2. What are the pros of using an extendable microfiber duster than an ordinary duster?
✓ No cleaning chemicals are needed because of its high absorption power
✓ The extendable pole can be locked in numerous lengths for excellent versatility when cleaning different spots.
✓ It's a good long term investment because it is washable and reusable. The stainless steel rod is also rustproof so you can use this tool everyday without worry.